Electric Vehicle Startups versus Established Auto Makers
FOLLOWING
A DIFFERENT
PLAYBOOK:
Electric Vehicle Startups versus Established Auto Makers
Published May 20, 2021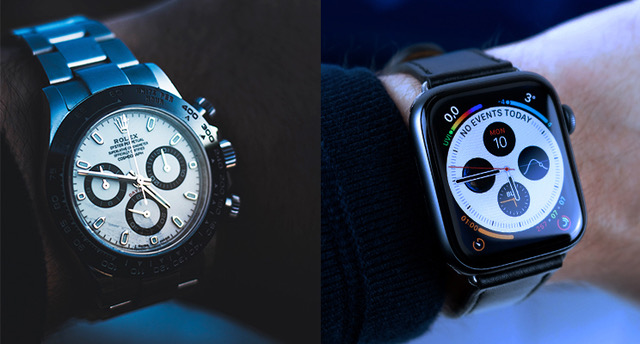 ---
Part 4 of our 'CHARGED UP' Series on E-Mobility
The race to build the car of tomorrow pits traditional auto makers against young manufacturers and electric vehicle startups. It's a tech race about whose wagons will one day dominate the prairie…and control the purses of their drivers.
Established car companies have valuable assets in their armories: they perfected high-quality mass production, they built strong brands with loyal followers, and they retain manufacturing footprints around the globe. They have robust retail networks and supply chains. But to succeed in the new electric vehicle era, they must integrate cutting-edge software with hardware. They must provide exciting products at competitive prices. And eliminate organizational silos so their corporate culture doesn't sabotage their ambitious electrification strategies.
Young electric car companies and EV startups, in contrast, have no legacy regarding product, operations footprint, or mindset. This gives Tesla, Rivian and Lucid wide latitude to do things differently than the traditional manufacturers. What separates these young powerhouses from the rest is their vertical integration. From the outset, that's how they were set up. Key technologies and software are developed, tested and perfected in-house, instead of sourcing them from suppliers. The energy consumption of the car's powertrain, climate control and other systems is optimized in the process, aided by sophisticated power management and 'smart' distribution. Component 'light weighting', down to car seats, gets rid of extra pounds and reduces the amount of auto mass that needs to be moved.
Tesla makes its own power electronics and motors. Its proprietary SuperCharger network is the world's best and largest. The company's over-the-air updates, which 'rejuvenate' everything from suspension to range and navigation, are the envy of the industry. The world's most valuable auto maker is widely seen as setting the standard for EV powertrains and most importantly for its software and centralized control unit. This is the digital brain for the car's 'autopilot' and infotainment. Market and tech analysts predict Tesla will likely remain the cost and technology benchmark for some time.
Rivian built a unique connected 'skateboard' platform – a slim chassis holding battery pack, powertrain and suspension – that is used for the company's soon-to-debut R1T pickup truck, the R1S SUV, and a delivery van, of which 100,000 units are on order to boost Amazon's 'last-mile' delivery capabilities. Powertrains, battery packs and other core components for these vehicles are designed and built in-house.
Lucid, too, swears by vertical integration for the design and development of its electric powertrain technology – motors, battery packs and all.
The focus on vertical integration gives manufacturers significant advances in the overall energy efficiency of their vehicles and it explains why a Tesla Model 3 scores up to 141 MPGe (an acronym for miles-per-gallon equivalent, the EPA's way of quantifying the efficiency of electric vehicles). This compares to the electric flagship of the Volkswagen group – the Porsche Taycan Turbo S – which gets an EPA-rated 68 MPGe. Audi's e-tron drives off the lot with a 78 MPGe rating while VW's latest U.S. market entrant – the ID.4 – claims 97 MPGe.
This is one more reason why traditional auto makers are watching the competition with eagle eyes and are not shy to take more than just a page or two from the playbooks of these young market intruders.
Of course, Tesla, Rivian and Lucid have their own unique challenges to deal with. There is the difficult transition from startup to manufacturer (Tesla has already gone through self-proclaimed 'production hell'). They need to build brand appeal, retail channels and a global footprint. Capital markets and investors require constant TLC; so does company culture. Daunting tasks, no doubt.
The stakes are high for both camps. Time will tell if the prairie is big enough for all these wagons. Then again, to quote a distinguished colleague from Apple, the more the merrier…
Electric Vehicles and the Future of Retail
SAY GOODBYE TO THE DEALERSHIP OF OLD:
Electric Vehicles and the Future of Retail
Published May 13, 2021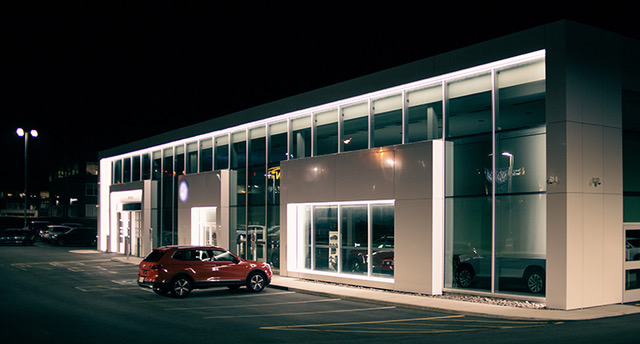 ---
Part 3 of our 'CHARGED UP' Series on E-Mobility
For more than 100 years, we have bought our cars at independent dealerships. That's because state franchise laws prohibit auto makers from selling their cars directly to us consumers. This arrangement worked out well for dealers over time. But the competitive landscape is changing. In the dawning Electric Age, new market players and technologies are beginning to challenge today's retail model and its bottom line.
Rather than sell through franchised dealerships, electric-car companies and EV startups such as Tesla, Rivian, Lucid and Polestar follow a direct-to-consumer model, building their own retail studio and service footprint. Cars are sold online only, which greatly simplifies the buying process. Prices are set centrally, with no room to haggle. This business concept cuts out "the middleman" and allows manufacturers to control the entire customer journey – from purchase to delivery, maintenance and ownership. Auto makers now have complete say in how their brand and their vehicles are presented…and serviced. Wouldn't you prefer to have your car looked at on your driveway or at work? It's already happening, thanks to a fleet of mobile service units for maintenance and repairs.
Tesla, which spearheaded the direct auto sales model in America, already owns more than 160 stores and galleries in the United States. EV startups Rivian and Lucid are expanding their bricks-and-mortar presence, with Rivian to open 10 'retail experience' centers and 41 service facilities by next year, while Lucid plans for 20 studio and service locations. Polestar, the new electric-only car brand owned by Volvo, is opening another 15 new showrooms by end of this year.
There are bumps in the road ahead for auto dealers. Upgrading dealerships to service electric cars is expensive. Installing charging stations, heavy-duty lifts and dedicated service bays, and retraining technicians to work safely on high-voltage electric systems requires investments of several hundred thousand dollars.
Unlike their gas-guzzling counterparts, electric cars hardly classify as 'cash cows' in terms of service. With fewer components, they require less maintenance than conventional cars: an electric drive train has one-tenth of the moving parts of an internal combustion engine. Electric cars don't have spark plugs or catalytic converters. They don't need mufflers, fuel filters or fan belts. Adieu to oil changes…and to the revenue streams dealers were used to in the good old days, when on average 50 percent of dealership gross profits came from parts and service.
Here's yet another threat to dealer profitability: over-the-air updates. Pioneered and perfected by Tesla, this wireless delivery of software 'refreshes' your auto's systems – from suspension to brakes, range and infotainment – overnight and while the car is in your garage. No need to drive to the dealership for that two-day update via cable.
Ever thought about the collision avoidance system in your car, designed to keep you and your loved ones safe? Deployed in large numbers, this technology will eventually help reduce the number of accidents and put a dent in the lucrative high-margin collision repair business of dealers.
There's no doubt these developments are 'stress-testing' the current dealership revenue and profit model. It's time for established auto makers and their dealers to rethink the future of retail.
The 'Masters of Code' for the Electric Vehicle of Tomorrow
WANTED:
The 'Masters of Code' for the Electric Vehicle of Tomorrow
Published May 6, 2021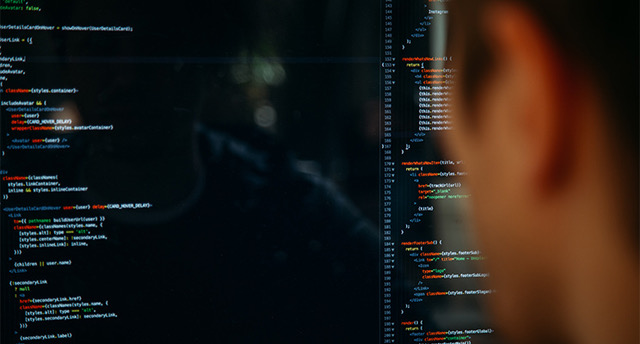 ---
Part 2 of our 'CHARGED UP' Series on E-Mobility
Software is rapidly reconfiguring the auto industry. Data is the new oil in tomorrow's electric, connected and autonomous car.
Massive programming is needed for an electric vehicle's operating system and for automated driving. The car's adaptive cruise control, its cloud-connected services, automated braking and night vision systems all require sophisticated software. Lane-keep assist, infotainment and over-the-air updates also require code, and lots of it. In the race to build 'laptops on wheels' (Elon Musk), attracting and retaining software-development talent is a key priority for automotive organizations and their suppliers. It's the start of a golden age for the 'masters of code'.
If you're a software engineer then your future looks bright! Demand for this profession will likely increase three to four times by 2030, says consulting firm McKinsey. More and more, businesses realize they need to build strong internal expertise in software architecture, integration and validation.
Recruiting talent is a challenge for auto makers, who compete globally for UX designers and AI experts with tech giants such as Apple, Google or Microsoft and other industries.
Executive recruiters point to a rapid rise in demand for software engineers that exceeds supply. Already today, top developers can 'pick and choose' between employers in Silicon Valley, Detroit, Munich or Shanghai and ask to work from anywhere in the world. The 'masters of code' know they can command a premium for their expertise – including high six-figure salaries, stock options and the coveted U.S. 'Green Card' residency permit – much to the dismay of hiring managers and HR departments at automotive companies, who are used to determining compensation based on more rigid salary bands.
Auto makers are learning they need to 'pay to play' if they want to attract top talent. Career paths, growth opportunities and a strong culture will help companies retain the experts they need to build tomorrow's software-defined car.
How Far Should Electric Vehicles really go?
RANGE WARS:
How far should Electric Vehicles really go?
Published April 29, 2021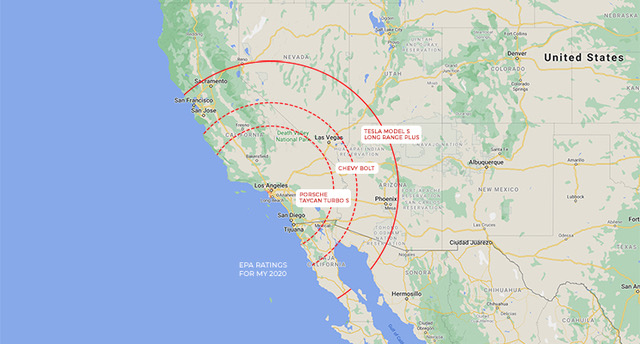 ---
Part 1 of our 'CHARGED UP' Series on E-Mobility
How far can you go on one charge with your electric vehicle (EV)? Let's talk about it.
Every EV buyer has a minimum range in their head when considering a new car. Most consumers want at least 250 to 300 miles per charge. The more the better. Back in 2012 Tesla introduced its groundbreaking Model S. The company knew it had to address a key concern among drivers – how far will this car go? To disperse fears, Tesla launched it with an EPA-rating of 265 miles. This was a real coup at the time.
Fast forward to model year 2020: the Porsche Taycan Turbo S gets 192 miles of EPA-rated range. Audi's e-tron makes 218 miles. The Jaguar I-Pace clocks 234 miles. Chevy's cheeky Bolt clinches 259 miles – and puts three premium brands to shame. But not one 2020 model year contender can take the range crown from Tesla's 2012 Model S.
Sly marketers want us to believe that 200 miles or so per charge is really all we need. But consumers want more range. Fortunately, there's pushback, including from three Californian tech powerhouses – Tesla, Rivian and Lucid – who maintain that good, solid range is a deciding factor in the ownership experience at a time when the charging infrastructure is in its infancy and charging is slow.
To rescue consumers from the 'range anxiety' front, Tesla dispatches 'Model S Long Range Plus' with an impressive 402-mile EPA rating. Not to be outdone, Rivian moves into the fray with a pickup truck capable of 400 miles and the 'zero to 60' acceleration of a Porsche 911 (count to three). That's right – in America electric trucks are now as fast as sports cars! So, watch out for the 'Rivian R1T' which debuts this summer along with its long-range sibling, the 'R1S' SUV. And then there's the third Californian – Lucid – who wants to set a new range record with EPA-estimated ratings of 406 and 517 miles for the 'Air Touring' and 'Air Grand Touring' sedans.
Of course, we all have strong opinions on range. Don't settle for less when we can have more. As the competition heats up, we'll see the overall range of EVs in the U.S. increase to 300 plus miles in the next few years.
The race to build the car of the future is a marathon, not a sprint. And today's record may well be tomorrow's norm!